Wonderwoman: Warbringer
by Leigh Bardugo
Published August 2017
Goodreads: See here
YA Fantasy / Superhero
Featured image can be found on my instagram:

@

bookbastion.
Plot at a Glance:

Daughter of immortals.

Princess Diana longs to prove herself to her legendary warrior sisters. But when the opportunity finally comes, she throws away her chance at glory and breaks Amazon law—risking exile—to save a mortal. Diana will soon learn that she has rescued no ordinary girl, and that with this single brave act, she may have doomed the world.

Daughter of death.

Alia Keralis just wanted to escape her overprotective brother with a semester at sea. She doesn't know she is being hunted by people who think her very existence could spark a world war. When a bomb detonates aboard her ship, Alia is rescued by a mysterious girl of extraordinary strength and forced to confront a horrible truth: Alia is a Warbringer—a direct descendant of the infamous Helen of Troy, fated to bring about an age of bloodshed and misery.

Together.

Two girls will face an army of enemies—mortal and divine—determined to either destroy or possess the Warbringer. Tested beyond the bounds of their abilities, Diana and Alia must find a way to unleash hidden strengths and forge an unlikely alliance. Because if they have any hope of saving both their worlds, they will have to stand side by side against the tide of war.
Reviewed:
Leigh Bardugo saved me from a horrible reading slump this year, and for that I will always be grateful, and this book will always hold a special place in my heart.
I've been sort of trapped in cycle of reading recently where I was pushing myself through a book I wasn't really enjoying, treating the act of reading like something compulsory, instead of something that I looked forward to doing each day. In a way, reaching this book was like coming home – finding something to look forward to. Leigh Bardugo's style of writing has become like comfort food to me. I enjoy the way she crafts her worlds and her characters. Before I knew it, I was looking forward to returning to this book to see how Diana and Alia's stories were going to end.
Of course, I would be remiss if I didn't admit that the reason why I was drawn to this in the first place was totally because of the Wonder Woman movie that came out last year. Superheros aren't really my thing, but after watching Buffy during my formative years a feminist narrative has always been my cup of tea, and after watching Wonder Woman I knew that I had to prioritize this book. If only just to live in Diana's world for a little while longer.
I think it should be noted at this point for people who are drawn to this book because of their love for the movies, that one should not enter into this book expecting to find total canonical alignment between the movie's universe and this one. Like the comics, where the canon has been rebooted several times over to tell new stories, this novel exists in another universe. One where Diana is younger and is not limited by a rule established early on in the movie: that she cannot return to her homeland of Themyscira once she has left it behind.
Also, this story plants Diana firmly in the present, rather than in the middle of World War One.
Diana faces the call to battle when a ship sinks off the coast of Themyscira, and she makes the choice to rescue Alia, who has been born as her generations Warbringer – the modern day equivalent of Helen of Troy. Tasked with purifying Alia in a magical spring to end the Warbringer line for good, Diana and Alia set off on an adventure that tests their limits and will force them each to call on power they didn't know they had in order to survive.
Per her usual, Bardugo excels at creating a diverse and fun cast of characters that are varied, unique and distinctly likable. I think one of the things I enjoyed so much about this cast is that the majority of them know each other before Diana joins their story. They are already connected and know how to relate to one another. Their banter was a little bit awkward at first – particularly between Nim and Theo – but their friendship remains top of mind the entire story and perfectly frames the devastation of the events to come.
However, at times the dialogue began to rub me the wrong way. Particularly during moments when the plot seemed to stall in favor of giving the characters another silly scene together. For example, at one point the journey is put on pause because one character is tired and needs to sleep, but we end up getting an entire chapter of banter involving this character before they finally nap and move the story along again. The dialogue's not bad, but plot didn't have stall in order to characters to joke around with one another.
I said this in one of my updates on Goodreads while I was reading this book, but in a lot of ways this story was very reminiscent of a more emotionally mature Percy Jackson in a lot of ways. It relies a lot more heavily on mythology than I'd expected it to, but this allows for things to get particularly crazy for the last 20% or so, which was definitely the most fun part of the book.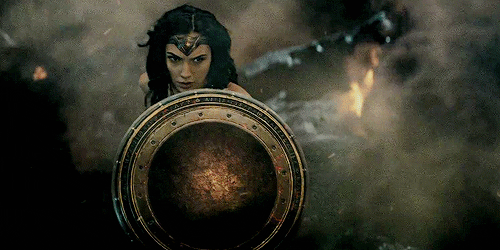 This is as much an origin story for Alia as it is for Diana, allowing both women to discover and rely on strengths they didn't know they had within themselves in order to save the ones they love. Alia's journey is particularly moving as her point of view chapters are framed within her viewpoint as a woman of color living within a society that notoriously undervalues the strength of her demographic. I was just as excited to see her come into her agency and power over the course of the story as I was to see Diana cracking skulls of baddies along the way.
Basically, the representation and thematic messages present in this book's narrative are important and lent it a real gravitas that I came to appreciate even more once the story reached its end. A little spotty in places where the plot slows down, or where it conflicts with the canonical movie version of Wonder Woman, but overall this is a faithful adaptation with a lot to love.
🌟🌟🌟🌟✩ = 4/5 stars!
---
Do ya'll love Wonder Woman as much as I do? I'm obsessed with her! Lets chat superheros below. Who is your favorite? Also, if you've read this, tell me what you thought about this book.
xoxo