Baby Teeth
by Zoje Stage
Anticipated Publication: July 17, 2018
Goodreads: See here
Psychological Thriller / Suspense
Synopsis at a Glance:

Meet Hanna.

She's the sweet-but-silent angel in the adoring eyes of her Daddy. He's the only person who understands her, and all Hanna wants is to live happily ever after with him. But Mommy stands in her way, and she'll try any trick she can think of to get rid of her. Ideally for good.

Meet Suzette.

She loves her daughter, really, but after years of expulsions and strained home schooling, her precarious health and sanity are weakening day by day. As Hanna's tricks become increasingly sophisticated, and Suzette's husband remains blind to the failing family dynamics, Suzette starts to fear that there's something seriously wrong, and that maybe home isn't the best place for their baby girl after all.
Reviewed:
I should probably start this review with a conditional disclaimer that the subject matter in this book is intense, and likely bound to be divisive among readers who have children of their own. Many suspense thrillers center around a very calculating and evil adult antagonizing the protagonist, which is difficult enough for some readers to stomach.
Zoje Stage flips the genre on its head by placing evil in the heart of the home, testing the limits of a mother's love for her own flesh and blood.
We're only in March and I can already tell that Baby Teeth is going to be one of my favorite thrillers of the year. Like I said, the subject matter is definitely intense. To me, this bordered more closely on outright horror than a lot of thrillers I've read in the past. There's something incredibly disturbing about Suzette and Hanna's inability to communicate their needs and desires with one another that creates an atmosphere of increasing tension that only rises as the story progresses.
It helps that Zoje Stage made the decision to tell the story through both Suzette and Hanna's viewpoints. Witnessing the thought processes of both characters against the actions they take reinforces the point that their ability to communicate their needs to one another is damaged – perhaps irreparably so – and is leading them both to very dark places.
Horror, when its done right, is scary because it's easy to relate to – to put one's self in a character's shoes. It's the character development that really ratchets the tension right up into horror territory. Neither Suzette nor Hanna are inherently evil. They're both well crafted characters with emotional wounds that have left terrible scars over their hearts. As the reader, we can see the trainwreck coming when we watch them interact and know when one of them is getting it wrong, but it's impossible to look away from the destruction that follows.
Suzette's chapters in particular are really well done. There are a lot of layers to her character that are delivered over the course of the story, making her something of a tragic figure. She's been harmed by her own relationship with her emotionally abusive mother, which makes her inability to communicate with her selectively mute child even more devastating for her.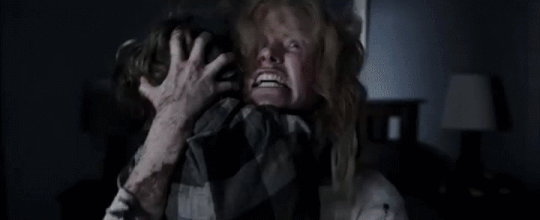 That being said, the only drawback to this dynamic was the few moments where the story relies a bit too heavily on one of my least favorite horror tropes: the father who is reluctant to believe his wife when she says something horrible is happening. As much as I liked Suzette and Hanna as characters, Alex really frustrated the heck out of me. He is not only willfully oblivious, but much of what he does and says to his child squarely frames Suzette as an enemy to his child. His character improves in the last 40% of the book or so, but before that point I found myself cursing his choices more than once.
One unexpectedly pleasant surprise about this book is Zoje Stage's abilities as a writer. For a debut novel, the characters are quite well done and the prose was wonderful as well. At times it's beautiful and dreadful and almost dreamlike, especially in Hanna's chapters where her inner monologue is centered a bit more in the abstract interpretations a child would make, rather than in the concrete history of events where Suzette's narrative is focused.
This was one book that I couldn't put down. I don't expect that it will be for everyone. I think parents of young children will likely find the subject matter divisive. It should be interesting to see the discourse that this book creates between parents, nonparents, and fans of suspense and horror genres once this book hits the shelves. I for one thought it was great, and can totally see this concept being adapted in a film someday down the line. I'm excited to see how Zoje Stage grows as an author in her future offerings.
🌟🌟🌟🌟 = 4/5 stars!
---
How excited are you for this book? Have you read any other books that play off of a damaged bond between a parent and a child?
xoxo