The Terror
by Dan Simmons
Published January 2007
Page count: 769
Goodreads: See here
Horror
Synopsis at a Glance:
Their captain's insane vision of a Northwest Passage has kept the crewmen of The Terror trapped in Arctic ice for two years without a thaw. But the real threat to their survival isn't the ever-shifting landscape of white, the provisions that have turned to poison before they open them, or the ship slowly buckling in the grip of the frozen ocean.
The real threat is whatever is out in the frigid darkness, stalking their ship, snatching one seaman at a time or whole crews, leaving bodies mangled horribly or missing forever.
---
Reviewed:
I'm late to the party with this read, I know, but The Terror just came onto my radar when I realized that AMC was turning it into a television show. I'm a book-over-movie/tv adaptation purist. So many details end up falling to the wayside in an adaptation – for example, I've watched one episode of the show, and already spotted a major difference from the book. I knew I'd want to experience this story as Dan Simmons originally told it, so I ran out and got myself a copy.
I knew going in that this would be a book that would challenge me on a number of fronts. I enjoy horror, but historical fiction is not exactly my purview so to a mix of both is definitely something I'd not experienced before. I'm happy to report that this book far and away exceeded my expectations. This book is as dark and desolate as its setting, packed with perfect atmospheric horror at its greatest.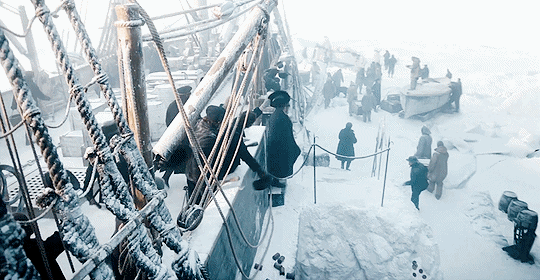 Inspired by real events, The Terror is a fictionalized account of Sir John Franklin's lost expedition of the HMS Erebus and HMS Terror into the artic seas in 1845-1848, to force the Northwest Passage. Dan Simmons weaves together a fictionalized possible explanation to what happened to the men aboard both these sister ships, incorporating both real and supernatural horrors that fill the story with a limitless supply of dread.
Some of the best horror is borne out of that same sense of isolation that proliferates this novel. Trapped on the artic ice, in sub-zero temperatures, with a murderous beast hot on their trail, the men of HMS Erebus and HMS Terror already had enough on their plate for me to feel disturbed by. Couple all that with failing food supplies and the gloomy prospect of what must come next when the food runs out, things get even scarier.
I spent pretty much the entire second half of the story aghast at the levels certain characters are forced to sink to. Make no mistake about it, when people say this book is dark, it is seriously dark. Just when you think things cannot get worse for these characters, they do. Horror fans in general are curtained to be delighted by it, so if you enjoy bleak and existential dread in your horror, you must give this a try.
One other aspect I really enjoyed about this was the characters. I went into this novel hoping to be impressed by the supernatural bear-demon hunting a trapped crew in the artic and came away feeling like the depth and actions of certain characters really blew that out of the water. I was more compelled by a desire to see how certain characters stories would turn out than I was in the supernatural elements by the end of the novel.
Keep in mind that there are a lot of characters here. You've got a cast of 100+ characters counting all the men on both ships, and though many cycle to the forefront of the story only to be excised by death, a few frontrunners who stick around for the long count ended up really capturing my heart. Crozier, Irving, Peglar and Bridgens in particular were three side characters that are so well developed and written that I found myself the most greatly invested in their outcomes.
The level of detail and attention paid to historical accuracy is staggering, though perhaps a little overwhelming to readers who aren't expecting it. I was never bored for a moment and was very pleasantly surprised to encounter a properly scary and well written adventure encapsulated in this horror novel.
4.5 out of 5 stars!
---
What did you think of the Terror? How'd you feel about the characters? Can we talk about how much we loved Peglar and Bridgens? I can't be the only one who liked them.
xoxo