I was recently tagged by my friend, Jenna @Bookmark Your Thoughts to participate in this tag. Jenna is a fabulous blogger with a really lovely themed blog. Make sure to check out her blog and her answers to this tag too. 🙂
I really loved the idea of this book blog tag – working through the list of comparative questions was a great deal of fun. I hope you all enjoy my answers!
---
Reading on the Bed or the Couch?
Definitely the couch. Once upon a time I would have said bed, but I've recently upgraded my couch and it's this massive affair with a "cuddler" section on my end that is absolutely the perfect place to pile in with pillows, a blanket, and a good book. It's just so cozy!
Male Main Character or Female Main Character?
I am obsessed with strong female characters, always have been and probably always will be. I grew up obsessing over female characters like Buffy Summers and Ellen Ripley, and hoping that I could only be half as cool as them when I grew up.
Even though I'm a guy, I tend to relate a lot more to female driven narratives. There's something about the empathy and openness in their narrative voices that I find really compelling and easy to relate to.
Sweet Snacks or Salty Snacks while reading?
Do people normally snack while reading? I don't really. Actually, eating is the one time I usually set books aside completely to focus on my second love: food! Because heavy B likes to eat. 😂
Though I do like to have a cup of coffee or iced tea handy while I'm reading. Gotta stay hydrated you know?
Trilogies or Quartets?
I've gotta go with trilogies on this one. I feel like Quartets too often feel like the fourth book is tacked onto the tail end of a series that could have been completed in three books. I don't know if it's done as a marketing technique or what, but I prefer short and sweet series rather than ones that continue to get drawn out.
Reading First Person or Third Person POV?
I like them both, though I think the epic fantasy fan in me slightly prefers third person POV. It allows the world to feel larger, and more grand in scale, especially when the narrative voice incorporates what other characters are up to, or important details about the world.
Reading at Night, or in the Morning?
Morning, afternoon, evening? It's all the same to me. I pretty much have to scrape and scrounge in order to find time to read during the day. In the morning, when I'm getting ready for work, I actually prop my kindle up on the counter in my bathroom so I can read while I'm making myself look vaguely presentable to face the public before I leave the house.
I also try and read on my lunch break at work, especially when I'm way into the book that I'm reading. It's like I'm counting down the minutes until I can disconnect from reality and get back into the story. Then, in the evenings, when things settle down I can settle back in with my book of choice. So yes, to reading at night, and in the morning. Since I don't have a TARDIS, I read whenever I can, basically.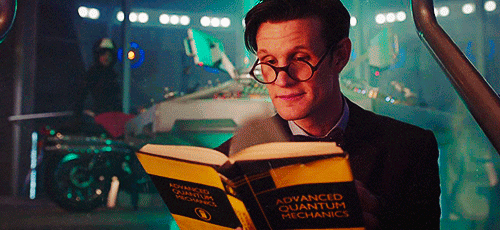 Libraries or Bookstores?
I know you're supposed to say Libraries for this one, but I am too addicted to buying books to not admit that I prefer bookstores. There is something truly magical about walking into a bookstore and knowing that I'm about to add one or two, or three books to my collection. Me to every book in the bookstore: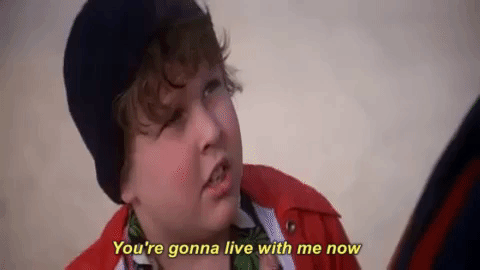 Books that make you laugh or cry?
I'm really hard pressed to find a book that actually pushes me to tears, so I'm going to go with books that make me laugh. I live for it when the humor is on point in a book, and characters are really witty or sassy, or sarcastic! It adds so much to the story and really can help make characters feel real.
Black book covers or white covers?
Definitely black book covers. I am obsessive about keeping my books looking nice and presentable, and find that white book covers are so much more difficult to keep clean! Plus, black book spines just look so nice on a bookshelf.
Character driven or Plot driven?
Character driven, definitely. The plot can be amazing, but if the characters don't feel real, or if the voices of multiple characters within one story sound too similar, it sort of drags down my enjoyment of the work as a whole. I always derive joy from plots, of course, but it's characters that I fall in love with and will return to a series or story for.
---
There we have it! That's me done for.
Now I'm going to be brave and tag a few people – you lucky ones who don't yet seem to be sick of me, and seem to get a kick out of book tags. If I haven't tagged you, and you'd like to participate – feel free! Let me know in the comments below so that I know it's okay to tag you in the future.
Tagging:

Emma @Emmareadstoomuch
Mandy @BookPrincessReviews
Norrie @ReadingUnderTheBlankie
Lily @LairOfBooks
Joyce @ButtonEyedReader
---
xoxo