Needful Things
Stephen King
Published: October 1991
Page count: 790
Genre: Horror
Plot at a Glance:
Master storyteller Stephen King presents the classic #1 New York Times bestseller about a mysterious store than can sell you whatever you desire—but not without exacting a terrible price in return.
The town of Castle Rock, Maine has seen its fair share of oddities over the years, but nothing is as peculiar as the little curio shop that's just opened for business here. Its mysterious proprietor, Leland Gaunt, seems to have something for everyone out on display at Needful Things…interesting items that run the gamut from worthless to priceless. Nothing has a price tag in this place, but everything is certainly for sale. The heart's desire for any resident of Castle Rock can easily be found among the curiosities…in exchange for a little money and—at the specific request of Leland Gaunt—a whole lot of menace against their fellow neighbors. Everyone in town seems willing to make a deal at Needful Things, but the devil is in the details. And no one takes heed of the little sign hanging on the wall: Caveat emptor. In other words, let the buyer beware…
---
Reviewed:
So, we all have establish that I love horror – I love being scared – but one author's catalog that I've been woefully under-read in is Stephen King. I read a few of his books as a young teenager, but those years are so far behind me now that I barely remember most of them! This is the year of reading things that have been on my list for awhile, and reading what's been calling to me and this book was on the top of the list.
When an author develops a pantheon of bestsellers, it's inevitable that some of those stories become a bit overshadowed, especially by the giants that the media chooses to recreate on the big and silver screens. Don't let the lack of word-of-mouth around this one fool you: there's a lot of meat to really dig into in this novel, in terms of plot, character, setting, (and even nods to earlier novels) that any fan of horror or thriller genres is sure to be entertained.
Even though Needful Things might not have captured the attention of Hollywood's remake and reboot machine – just yet anyway – it is directly connected to the Hulu show Castle Rock, which is an anthology series of untold stories conceptualized by Stephen King over the course of his career but never written.
Both the show, and Needful Things, take place in the fictional Maine town that King has centered a number of his stories in, and both share a few characters that made both watching the show and reading this book at the same time a great deal of fun.
Anyone who has read even one Stephen King novel knows that where he really shines – aside from the horror – is in his characters. King is a master at building a vividly realized world that is perfectly emblematic of small town life and the people living within it. He brings his characters to life more and more with ever passing page. Even the smaller characters are detailed in their motivations and backstories.
Truly everyone in this novel has their place and purpose, as Leland Gaunt, the proprietor of Needful Things uses their own desires to turn friends and neighbors against each other. Not one line of characterization is wasted in King's depiction of a small town brought to its knees by greed, and avarice.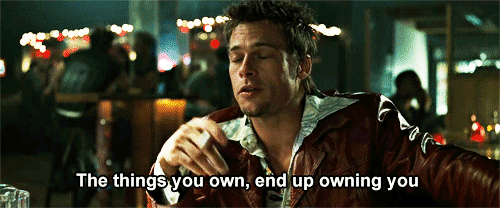 At the time of its release this book was touted as "the end of Castle Rock," and with good reason. It is clearly the culmination of years of work on King's part. This book is chock full of references to earlier horrors that have visited the town, and the way those events have effected the characters. Like I said before, I haven't read much of King's works, but even I was able to pick up on some of the references. A more well-versed fan of his novels is sure to get a lot of enjoyment out of the way this novel pays respect to those earlier stories.
I have to pay respect to the way this book is plotted as well. I'd call this a slow burn from start to finish, but there's just enough sinister shenanigans going on throughout that I found myself entertained, and it culminates in one hell of an epic showdown that I'm not soon to forget. As King has his characters give in to their desires and pay a visit to the darkened doorway of the new shop in their town, so too does he begin to pit his characters against each other. The reader can see the chaos coming, but it doesn't make the resultant horror any less scary to see unfold.
Clocking in at 790 pages, it is a trifle long, even for me. There's a lot to dive into here. Fans of fully realized characters and an examination of the destructiveness of materialism on society will have a great deal of fun digging into this one, but you absolutely have to be ready to work for it.
If you think you're prepared, step right up to the door of Needful Things. This is one store that is always open, for those willing to pay the price.
🌟🌟🌟🌟 ✯ = 4.5/5 stars!
---
Have you read this? What did you think of it? What other horror or scary reads do you love? What's your personal favorite Stephen King novel?

xoxo