The Iron Flower (The Black Witch #2)
Laurie Forest
Published: October 2018
Page count: 608
Genre: Young Adult Fantasy
Plot at a Glance:
Elloren Gardner and her friends were only seeking to right a few wrongs when they rescued a Selkie and freed a military dragon. The last thing they expected was to be thrust into a realm-wide underground resistance against Gardnerian conquest.
While the Resistance struggles to fight back against the harsh rulings of the Mage Council, more and more Gardnerian soldiers descend upon the University…led by none other than Lukas Grey, now commander of the nearby military base. Though Elloren tries to keep him at arm's length, Lukas is determined to tie himself to her, still convinced that she is the heir to the power of the Black Witch, a legacy of magic that will decide the future of all Erthia. As his own magic calls out to her, seeking to awaken a dark force within, Elloren finds it more and more difficult to believe that she's truly powerless, as her uncle always claimed.
Caught between her growing feelings for the rebellious Yvan Guriel and the seductive power offered by Lukas, Elloren must find a way to stay true to what she knows is right and protect everyone she loves…even if that means protecting them from herself.
---
Reviewed:
You might remember that last year I championed really hard for a little young adult debut fantasy book called The Black Witch, which was being unfairly lampooned by some overzealous keyboard warriors on Twitter who hadn't even bothered to read the book before judging it. Well, I read the book, and I became pretty passionate about defending it because it turns out, it was actually a pretty decent read with a subtext about the importance of inclusion – if you gave it a chance and didn't judge it without reading.
I will defend that book, and my decision to read it and the fact that I enjoyed it a great deal until my dying day. So when I remembered that The Iron Flower – Laurie Forest's followup to her debut novel – was hitting shelves this October, I ran out out to greet it with a fervor I reserve only for my most anticipated reads of the year.
In the regards of finally getting to catch up with Elloren and Yvan's story and place in this unique fantasy landscape definitely didn't disappoint. If you were a fan of the high fantasy landscape and vivid imagery put on display in the first book, you absolutely will not be let down revisiting that here. The world is still quite well realized in its various cultures and the ways that they play off of each other, and Laurie Forest still kills it with the way she describes the lay of the land in this world and her character's placement in it.
That being said, I unfortunately felt the bite of the dreaded sophomore slump with this one and would be remiss if I didn't cover the aspects I struggled with as well. First things is first: What happened to the university setting from the first book?? In The Black Witch, Elloren's studies – and her inability to master them – were quite prominent throughout. I think there were maybe 2 scenes that took place in a classroom in this book. The rest either take place in the North Tower (basically Elloren's dorm room) or in various kingdoms surrounding the University.
Unfortunately, this makes the world feel very small at times. When Elloren and company travel to the surrounding kingdoms, it takes them about one evening to get anywhere, which means that these vast cultures that are at war with each other are basically living right in one another's backyard. I think the story would have benefited from remaining within the confines of the University setting, still revealing aspects of the world without showing us how they always seemed to be right around the corner.
It was as though Forest grew tired of writing the characters within the confines of this school she had placed them in within the first book, and just conveniently drops the setting here in favor of writing more character driven drama. I wasn't entirely sure if Elloren and friends were even still a part of the university or not for a large chunk of the story. It's a head scratcher for sure.
And then we've got to talk about my biggest pet peeve in YA novels: the dreaded love triangle. I can't lie, the romantic aspects of this book were almost a dealbreaker for me.
The first half of the novel is almost entirely dedicated to Elloren alternating between the will they, or won't they dynamic Elloren and Yvan has, and Elloren being drawn to Lukas Grey and his sultry smolder as well. Honestly, I was just over it and ready for the plot to actually get started.Seriously, I spent way too long in this book wondering when the actual story was going to pick up again.
That being said, when the plot picks up (around the 50% mark) the pacing of this novel dramatically improved as well. I was much, much more bought in to the second half of the story. Things go from zero to 100 pretty quickly and whereas I felt like the first 50% was a slow burn that I struggled with, I flew through the latter half feeling much more committed to events.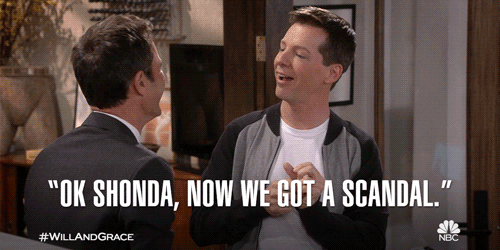 Reader be warned again though that this world is still incredibly dark and dangerous. The world is in the midst of what is essentially the start of a great world war between the various cultures and kingdoms, which lends itself to strained relationships among the groups. People who struggled with the content of book one will probably have similar issues here as well. That being said, this book was edited with the aid of sensitivity readers so I think even those who had complaints about the way things were handled in book one might find themselves pleasantly surprised here.
If you're looking for compelling YA fantasy set in a vast and dangerous world, look no further than The Iron Flower. While I didn't enjoy this book quite as much as the first, I'm sure I'll pick up book 3. Based on how this one ends, the next book is bound to be wild!
🌟🌟🌟= 3/5 stars!
---
Have you read this? What did you think of it? Have you read the Black Witch yet? What other divisive books have you read this year?

xoxo