I was recently nominated by my dear friend Jenna @ BookmarkYourThoughts, who was so generous and charitable to overlook my extended hiatus and still nominate me for this award! Thank you Jenna!
If you're not following Jenna's blog yet – you've got to check it out. The aesthetics are gorgeous and her reviews are always great. She's a strong voice in the book blogging community and someone who inspires me greatly. Make sure to check out her blog if you haven't already!
---
The Rules
Thank the person who nominated you.
Leave a link to their blog.
Tell us 7 things about yourself.
Nominate 15 bloggers/bloggers you've discovered recently or follow regularly.
---
One | I know American Sign Language
My dad is deaf, so I grew up with ASL and deaf culture being a big part of our household. In our house communicating with two languages (English and sign language) at the same time was common so that my dad was able to be a part of the conversation. Anything we watched on television, we watched with subtitles – I actually prefer to watch TV and movies with subtitles as an adult rather than without them because I've grown so used to them!
I am the slowest signer in my family by far. I'm extremely uncoordinated and have the worst memory for signs. It's something that I'm constantly working on and hope to continue to improve. Thank goodness my dad is patient with me and always willing to help me along the way!
---
Two | I have a twin brother

We're actually fraternal twins, though when we were really young our parents dressed us alike and had our hair cut similarly to look more like each other. We definitely diverged in our teenage years and pretty much became polar opposites of each other! I'm the good twin, he's the evil one. I'm the good looking one – well… you get the gist. 😂
---
Three | I have an unhealthy obsession with the Golden Girls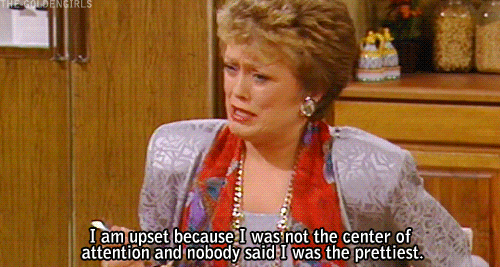 I grew up on the Golden Girls and have probably seen every episode like 500 times. I wish I was exaggerating, but I'm definitely not. The Golden Girls is like television's form of comfort food to me. I play it in the background when I'm cooking or cleaning – and I pretty much always set aside time at the end of the day to watch an episode or two before bed.
I know the lines by heart and friends in my real life often have to deal with me saying: "this reminds me of something that happened in the Golden Girls," on a daily basis. But what can I say besides -thank you for being a friend? I also have these girls to thank for my biting wit and sense of humor that I exercise on the daily in real life.
---
Four | I'm woefully under-traveled
I don't even have a passport! I do want to travel more, but to be honest the idea of it fills me with a lot of anxiety! I hate driving in city-traffic or in places I'm not familiar with, and I can really only take large crowds in short doses. I'm a country bumpkin I suppose. A hobbit in need of his Shire to come home to after any sort of journey away from home.
I'd need a good travel buddy to go with me if I ever took a vacation out of the area! I just am not the type that would have fun on my own – unless I holed up somewhere with a good book that is!
---
Five | I have the weirdest taste in music
Seriously, it's weird. I have trouble defining my taste in music when people ask. I gravitate towards female singers, for sure, but my Spotify playlists of saved songs clearly indicate that I am genre jumper for sure. Some of my favorite tracks and the genres they are from are:
Dynamite – Sigrid (Indie Acoustic)*this whole album actually
In Vain – Within Temptation (Symphonic Metal)
Taxi Ride – Tori Amos (Indie/Alternative)
Handmade Heaven – Marina (Pop)
Death – Cellar Darling (Progressive Rock)
---
Six | I am a huge horror buff
Who knew that you could be both a huge Golden Girls nerd, and also obsessed with horror movies? I just love being scared! Ever since I was a kid and would sneak away to watch scary movies on the Sci-Fi Channel (back when it was still called the Sci-Fi Channel and was actually good!) without my parents knowing.
It instilled in me a love for the genre. I actually think a lot of horror stories can be quite cathartic in a way. The genre never gets the credit it is due – but has experienced a resurgence in recent years thanks to Ari Aster, Jordan Peele and movies like the remake of Suspiria. I'm really excited to see where the genre goes next!
---
Seven | My doggo's name is Fiona
I'm not interesting enough to come up with a seventh thing about myself, so I'll introduce my favorite thing/best friend in the entire world to you all.
Fiona is an Australian Cattle Dog mix that I rescued from a southern state shelter when she was a pup. She and I are very connected and I don't know how I would have gotten through the last half year of my life without her.
---
There we have it! That was fun – and challenging! Who knew I was so uninteresting that I would struggle to come with seven interesting things about myself! This is why I lean so heavily on books. They're half my personality at this point. 😂
---
The Nominees
Norrie ReadingUnderTheBlankie | Hamad TheBookPrescription | Kayla BooksandBlends | Amanda MetalPhantasmReads | Keri AreYouMyBook | Priyasha Scribbledstories514 | Drew TheTattooedBookGeek | Arden PhantomPaper | Sophie BewareOfTheReader | Shalini BookReviewsByShalini | Emma EmmaReadsTooMuch | Chelsea TheSuspenseIsThrillingMe | Amy NovelGossip | Briana PagesUnbound | Noriko DiaryOfABookFiend
---
FOLLOW ME:
INSTAGRAM | FACEBOOK | TWITTER | PINTEREST | GOODREADS