The Hobbit
J.R.R TOLKIEN
PUBLISHED: SEPTEMBER 1937
PUBLISHER: HOUGHTON MIFFLIN
PAGE COUNT: 366
GENRE: FANTASY / ADVENTURE
Plot at a Glance:
In a hole in the ground there lived a hobbit. Not a nasty, dirty, wet hole, filled with the ends of worms and an oozy smell, nor yet a dry, bare, sandy hole with nothing in it to sit down on or to eat: it was a hobbit-hole, and that means comfort.

Written for J.R.R. Tolkien's own children, The Hobbit met with instant critical acclaim when it was first published in 1937. Now recognized as a timeless classic, this introduction to the hobbit Bilbo Baggins, the wizard Gandalf, Gollum, and the spectacular world of Middle-earth recounts of the adventures of a reluctant hero, a powerful and dangerous ring, and the cruel dragon Smaug the Magnificent.
---
Reviewed:
Every so often I get the unenviable task of writing a review that I know from the outset is going to be controversial. Why the low rating? I cannot in good conscious support this book when Tolkien forgot to include Tauriel.

Of course I'm kidding. In all seriousness though, I recognize that this is going to be one of those reviews that most will disagree with, so for all you Tolkien fans out there – I'm apologizing in advance because my brain and this book just do NOT mix.

I have no problems with the story itself. In fact, I have a lot of really fond memories of The Hobbit from when I was a child. Somewhere along the way when I was very small – smaller than a hobbit even – I was gifted a copy of the Illustrated version of this book, which I have very fond memories of.
Seriously, I probably have to stop for a moment and thank Tolkien for inspiring my love of all things fantasy because I'm pretty sure it was months upon months of carrying this book around until the pages were falling out that got me actively searching out stories about dragons and dwarves and magic and fantastical adventures.

But my love for the Hobbit remains tinged in the rose-colored memories of nostalgia for my childhood only.

I have tried to read this novel again and again in my adulthood, but failed miserably each and ever time. Seriously, if I was truthful and recorded all those attempts on Goodreads, I'd probably have a half-dozen Did-Not-Finish (DNFs) recorded. I've mentioned it before on my blog, but I think there's just something about the writing in this book that is like oil and vinegar but with me in the place of the former and this book the latter.
But the prideful fantasy fan in me didn't want to admit defeat, so I forced myself to try it again this year, this time with the audiobook recorded by Nicol Williamson. And to it's credit, something magical happened: I actually made my way through the book from start to finish!

There's something about this story that I just feel is better told than read. The prose here sort of lends itself to the spoken word. Tolkien doesn't spend as much time here (like he does in The Lord of the Rings) on the details. Instead, the adventure is told rather quickly, with Bilbo and his party moving quickly from one calamity into the next from chapter to chapter.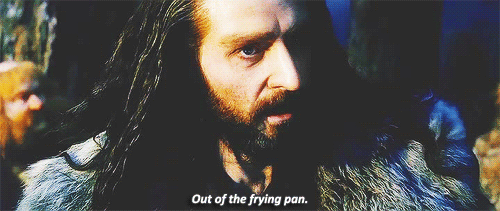 I think it definitely works hearing a voice tell you about these events as though across from a warm fire, rather than trying to work it all out in the written word.

Because as quick paced and filled with action as it is, one thing that I never see anybody actually talking about with this book is how paper thin pretty much all of the characters (except maybe Bilbo) are. To borrow from Bilbo himself on the eve of his one hundred and eleventh birthday put to Gandalf, it all feels a bit thin.
The dwarves – save for Thorin – could have all been traded out for ballerinas, or dancing brooms from Fantasia and the story absolutely would not have changed in any regard. Even Gandalf's character is poorly drawn in this story. He shows up to set Bilbo off on a journey, and then saves the day a few times, but beyond that doesn't serve to do all that much.

In fact, the Gandalf Ex Machina that was his rescuing Bilbo and friends repeatedly grated on me and was one of the many reasons I initially kept setting this book down. It made the danger feel less immediate, knowing that Gandalf was probably going to swoop in during the eleventh hour and make everything okay for our heroes.

The ending is especially anticlimatic, as Bilbo gets knocked out and "knew no more," for the 18th time in the story, and much of the final battle is rather simply told to the reader than actually shown.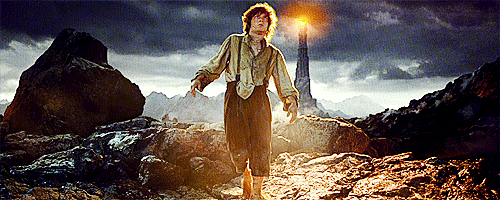 And the songs! Good lord – someone should have told Tolkien that less was more. Did every single fantasy race that was introduced in this book need its own scene where they sang to the heroes about the danger they were in, or about how fantastical their world/adventure were? Ironically, I love musicals and music in general, but I find the inclusion of Tolkien's songs to be really hokey. Again, I'm sorry!

Still, now that I've finally made it through this book as an adult, I can't say that I totally hated the experience! Did it live up to the hype for me? No, I can't say that it did – but I can appreciate this book and its story for all that it gave to the Fantasy genre and the stories which came after it.
🌟🌟🌟 – 3 out of 5 stars
---
Have you read this? What did you think of it? What other popular novels do you have a controversial opinion of?

xoxo
FOLLOW ME:
INSTAGRAM | FACEBOOK | TWITTER | PINTEREST | GOODREADS