Outpost (Donovan Series #1)

W Michael Gear
Published: February 2018
Publisher: Daw Books
Page count: 422
Genre: Science Fiction
Plot at a Glance:
Donovan: A world of remarkable wealth, habitable, with a breathable atmosphere, water, and a salubrious climate. Call it a dream come true. A dream? Or a nightmare? Donovan's wealth comes at a price. For Donovan lies thirty light years away–a two-year journey that few survive.
When Turalon arrives in orbit, Supervisor Kalico Aguila discovers a failing colony, it's government overthrown, and the few colonists left now gone wild. For Kalico, Donovan offers the chance of a lifetime: one desperate spin of the wheel that will leave her the most powerful woman in the solar system. Or dead.
Planetside, Talina Perez is one the three rulers of Port Authority–the only remnant of a town on Donovan. She's the only law left, and now a Corporate ship has appeared in orbit and is demaning answers about things she's done in the name of survival. Perez is about to lose everything, including her life, when Kalico lands with her Marines.
For Dan Wirth, Donovan is a last chance. A psychopath with a death sentence looming over his head, he can't wait to set foot on Port Authority. He will make one desperate play to grab a piece of the action. No matter who he has to corrupt, murder, or destroy.
Captain Max Taggart has been The Corporation's "go to" guy when it comes to brutal enforcement. As the situation in Port Authority deteriorates, he'll be faced with committing mass murder in order to dominate the wild Donovanians. Only Talina Perez stands in his way. Or. God forbid, is he getting squeamish in his old age?
Just as matters spiral out of control, a ghost ship, the Freelander, appears in orbit. Missing for two years, she arrives with a crew dead of old age, and reeks of a bizarre death-cult ritual that forewarns any ship from making the return journey to Solar System.
Does anyone dare space back on Turlon with her wealth of ore, ceramic, gems, and gold? Or do they take their chances on a deadly planet that kills three out of four colonists?
And in the meantime, a brutal killer is stalking all of them, for Donovan plays its own complex and deadly game. One whose secrets are hidden in Talia Perez's very blood. A game which will change everything, forever.
---
Reviewed:
This was my first book by W. Michael Gear, and it certainly won't be my last. Even though this book did not turn out to be at all what I had expected it to be, I was quickly drawn in by the setting of Donovan and the stories of the people that call it home.
A dangerous planet on the farthest reaches of known space, Donovan is cut off from the rest of humanity, and its people are left to vie for control of the resources it has to offer.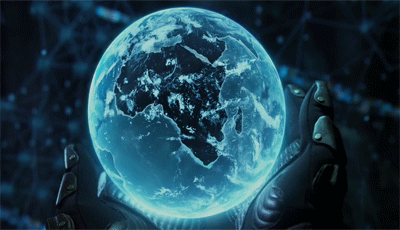 Told through shifting perspectives in alternating chapters, Gear develops the world and his characters as they begin to exert their influence upon each other and the landscape through political and economic machinations.
From the cover one would assume this book was going to be a lot more macabre than it actually ends up. I can't lie: I was slightly disappointed that this book didn't really go there with the horror elements like I'd anticipated it would. While there are minor horrific elements (such as Freelander appearing in orbit over Donovan, its crew long dead victims of a death cult) the horror itself takes a backseat to a space opera with a ton of moving parts.
I eventually found myself more invested in those moving parts than I was in the gigantic spaceship full of skeletons floating above the planet.
While I'm fairly certain this aspect of the story isn't over yet and that we'll see more of Freelander later in the series, this book sort of glosses over the darkest aspects and quickly refocuses instead on what the arrival of Freelander and Turalon's resources mean to those left alive on the planet's surface.
Effectively abandoned by the intergalactic governing body of the future, those left behind on Donovan must scrabble with each other for control of those resources and the political currency to carve their way forward as a people.
As one of Donovan's longest standing citizens, Talina Perez comprises one third of Donovan's current governing body, The Trimunvirate. She and her friends are familiar with the dangers of the planet, and seem best suited to run the place, but of course the arrival of the last ship that The Corporation will likely ever send their way, Turalon, Donovan suddenly finds itself home to hundreds of new personalities all vying for a piece of the pie.
People like Kalico Aquila, sent by the shareholders of The Corporation to take over supervision of a colony of people who may no longer hold allegiance to her.
And men like Dan Wirth, a vicious psychopath who is unafraid to deal with the devil in order to better his own personal position in the world.
The author creates a compelling and believable microcosm of human society on Donovan through the ways these deeply varied characters begin to interact with one another. It's a Space Opera meets Western, as intergalactic characters are suddenly stranded on solid ground and in the midst of a power vacuum.
This book helped to open my mind to more adult sci-fi and fantasy stories. To be honest, while Young Adult has been my bread and butter for years, I've become so accustomed to the formula of those stories that it was nice getting to sink so deeply into a new world and the interpersonal drama of the adult characters living within it.
Aside from more horror, I did want a little more description for the flora and fauna of Donovan. Aside from Quetzels (which are basically velociraptor/dragon hybrids of this world) many of the other alien creatures and plant life seemed a little loosely drawn or described and thus were difficult to fathom. For example, the majority of creatures in the books have names that warn the locals what they do, but very little description for readers what they look like. Example: gotchya-vines, sidewinders, nightmares, etc.
Still, I think that the world itself will continue to get more complex over the course of the series – especially as the characters learn more about the world they're stranded on.
All in all, this was a really unexpected delight, and a very compelling read. I find the characters particularly charming – even the ones I loved to hate. I'm excited to see how the locals on Donovan fare in future additions to this series!
🌟🌟🌟🌟 4/5 stars!
---
Follow me on instagram @bookbastion!
What sort of sci-fi do you prefer? Hard sci fi grounded within rules and laws, or lighter fare sci fi like Star Wars?

xoxo
FOLLOW ME:
INSTAGRAM | FACEBOOK | TWITTER | PINTEREST | GOODREADS