REVIEWS FOR OTHER BOOKS IN THE SERIES:
Shadows of the Dark Crystal
Song of the Dark Crystal
Tides of the Dark Crystal (Jim Henson's The Dark Crystal #3)

J.M LEE
ILLUSTRATIONS BRIAN FROUD & CORY GODBEY
PUBLISHED: December 2018
PUBLISHER: Penguin
PAGE COUNT: 296
GENRE: Fantasy / Adventure / Young Adult
Plot at a Glance:
Jim Henson's The Dark Crystal: Tides of the Dark Crystal is the third book in a series of original young adult novels set in the world of Jim Henson's The Dark Crystal. As the Skeksis turn on the Gelfling, Amri must learn what it means to be a leader before the Gelfling clans–and his friends–become fragmented beyond repair.
---
Reviewed:
I'm three books into the Dark Crystal series now and dare I say it, I'm beginning to feel a bit of Dark Crystal burn out? Don't get me wrong – I still love the world of Thra and the universe that Jim Henson and Brian Froud initially conceptualized. And I enjoyed the first two outings in this series as well, but this book just fell flat to me.
I think it definitely doesn't help that the formula of this series really became apparent with this book. Just like the last novel moved away from Naia and onto Kylan, this book shifts the Point of View character again into Amri as he works through his own inner conflicts precipitated by the external conflicts of the Skeksis dominion of Thra. Although when this book starts with Amri questioning his strengths and capabilities to aide his friends, I found myself thoroughly confused.
Mostly because Amri had (to me) already thoroughly proven himself as a pivotal member of their gang by the ending of the previous book. Framing his inner monologue around these fears felt false to me, especially after the last book saw him scaling cliff faces in order to face danger.
If Amri had to be the focus character for this outing, I think the plot needed to be more complex or steer away from the basic internal character conflict structure of the last two novels. We already know the characters are brave – they're fighting the genocide of their species without being asked to – there's no need to have them keep questioning if they are.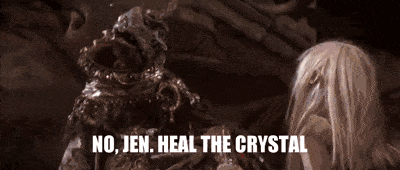 The thing about any book/television or movie series is that because we've already witnessed characters capable of growth and finding their inner strength in earlier issues of the story, the plotting has to become more complex in order to keep readers interested. Because the plot didn't really deviate from the formula of the first two books, it ended up feeling very young to me.
I will again give credit where it's due to JM Lee for being very creative in terms of the way he describes characters, creatures and settings with his writing though. That always felt lush, vivid and intriguing to me. There's also an original Skeksis introduced here – one of the few female ones too with the character of SkekSa. Lee actually managed to make the seafaring aspects of the story interesting by tying a lot of it to the culture of one of the Gelfling clans, which I thought was a cool take on the "stories set on the sea" trope.
Another minor complaint I have is with the cover art of Amri. It is definitely trivial, but he doesn't look like a Gelfling at all to me. He looks like some sort of racoon/squirrel hybrid. I actually thought he was going to be a brand new type of creature when I first bought this book.
All in all, this was a decent read. Certainly it's essential to understand the resolution of the story, so worth it if you're planning on binge reading the full series in a weekend or something.
🌟🌟🌟 –  3 out of 5 stars
Follow me on instagram @bookbastion for more shots of my books!
---
Where's my other Dark Crystal or Henson/Labyrinth fans?? Lets chat about the movie, Netflix Series, or this book series below!

xoxo
FOLLOW ME:
INSTAGRAM | FACEBOOK | TWITTER | PINTEREST | GOODREADS